I wasn't quite sure where else to put this
Sorry I'm so late on this! Hahah! but my mom came over today (my parents are newly seperated) :closedeye and we were going through Christmas decorations. Well, I'm sure a lot of people here can understand when I say, we have a lot of memories but 80% of them are from past Disney trips. So of course going through decorations we found TONS of Disney stuff and a lot of stuff we bought when we went in '06 for MVMCP. :wub:
Anyways, I found a really neat book my mom put together for us when we went in 1995. My parents had never been to Disney before so they decided to just take me as a test dummy. :blink: (I was four, my younger brother was about to be three and my sister tara was eleven) It was my first vacation and it was one I'd never forget!:wub::wub::wub:
My mom laughs now about how much she got ripped off!! :laugh: She is a Disney fanactic as well and blames herself for my craziness!
We stayed at a deluxe resort are first time and never looked back! Haha. We stayed at the Wilderness Lodge (which is still to this day my favorite hotel!) I don't know too much about the trip except on the first night, my first time in Disney, first night in the MGK … my mom took me on Tomorrowland Indy Speedway and as we're rushing to get off the fireworks begin to go off! :glare: My mom was telling me about how upset she was because she wanted to be infront of the castle to see. Because I think at that point we didn't have a lot of money and they weren't sure how often how much we'd be back. (little did they know… the next year we went with my entire family and ever since '95 we've went once or twice a year!)
I really posted this blog just to show everyone some awesome pictures of us! Maybe it'll bring back some memories of what disney was like "Back then!":laugh: Please share, I'd love to hear!!
(sorry for the bad quality my dell cam isn't cooroperating!
)
My dad on Main Street U.S.A.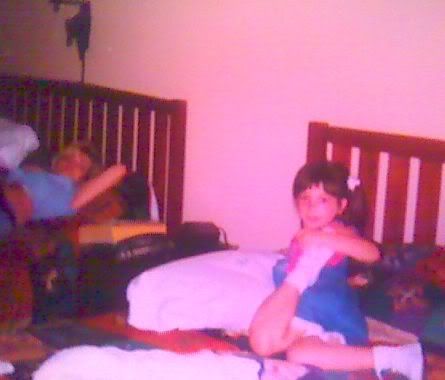 My mom and me in the beds at the Wilderness Lodge, I must've had a ball big bed all to myself!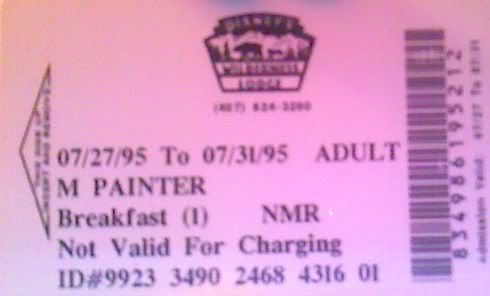 Whoa! What's that!! :laugh::laugh::laugh:
My daddy and me infront of the Haunted Manison! My fav!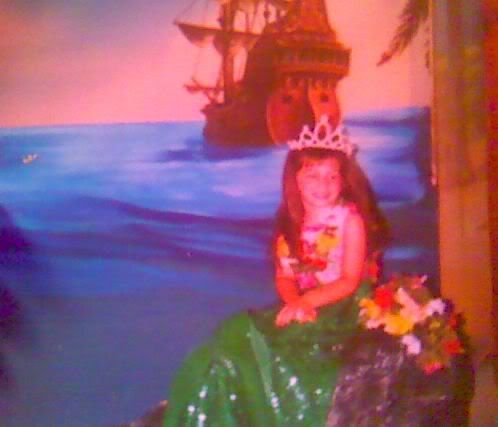 :ariel:
Mr. Goof and I in the Wilderness Lodge in Artist's Point's old character breakfast I believe. (I know it's 100 Acre Wood characters now)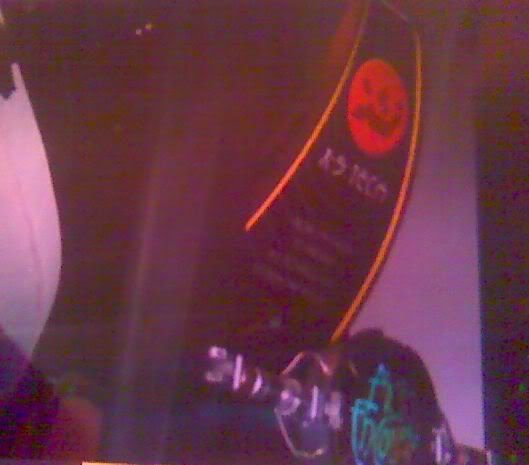 Scariest ride in Disney World ever! The only scary part about stitch is that it's still in operation! :laugh: I love stitch but omg it's so gross! Haha.
I know this is a little tacky to say but I've been thinking about the question "Why would you like to work for Disney?" mostly because I'm interested the CareerStart Program and I know they'll ask that.
And looking through those pictures today I found the reason… Because I want nothing more than to give another family the same magical, beautiful experiences past cast members have given me. A lot of things aren't great in my life, but when I'm Disney that goes away because I remember times like that Summer. Just the simple pictures of me hugging a character shows that you can make any child happy just by paying attention to them and trying your best to create the magic that you feel in your heart when you watch a disney movie or see the castle for the first time. And I'd love to be the memory kids go back to when everything not going so great in their lives. That's why I'm completely dedicated to being a cast member for the Happiest Place on Earth!