Woooo!!! First thread!!!
So, I've been making my own autograph books since I was a little kid and we went to Disney with some family friends. I didn't want them to feel left out because they didn't have autograph books, and we were going to several character dining restaurants. (We ate at what was then Donald's Breakfastosaurus, Crystal Palace, and Hollywood & Vine back when it was Minnie and friends.) So, I took 8.5 x 11 paper, cut it in half, then folded the halves in half, and made us all autograph books!
Since then, my autograph books have become a little bit more professional-looking.
I recently made my own autograph books and found it easy to do (though time-consuming). I was able to fit three 4x6s to a page. I printed the autograph pages onto printer paper and the title pages and cover onto cardstock. I cut out the pages using a rotary paper cutter (these can be found at an office supply or craft store in a variety of sizes and prices). It was quicker than scissors, and my lines were straight. I laminated (I laminated mine at home, but you can take yours to a copy shop or office supply store to get it laminated) the front and back cover (for the back cover, I used colored cardstock in a coordinating color). Be sure to trim the lamination close to the edge on the side that the binding will be on. There are many different options when binding the book. I bound mine using plastic binding combs (you can get this done at a copy shop or office supply store). You could punch holes and tie the pages together with a ribbon or pipe cleaner. Or you could use binder rings. Or you could buy a 4x6 photo album to slip the cards in and out of.
Here's some photos of my books from my February trip(more in my photobucket under "Completed DISigns"):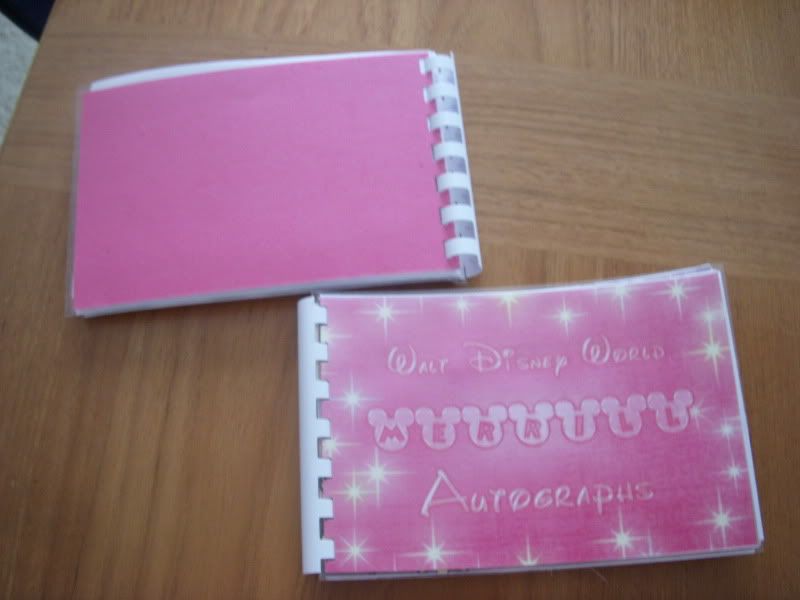 For my upcoming graduation trip (two days!!!), I decided on 5x7s, since I was only making two books.
My laptop battery died when I was printing Rachel's at the end, and the printer shut off, so that's why hers is messed up at the bottom. I didn't want to waste ink and paper by printing her another one. :frown:

I just used generic WDW pages because we aren't going to be there too long.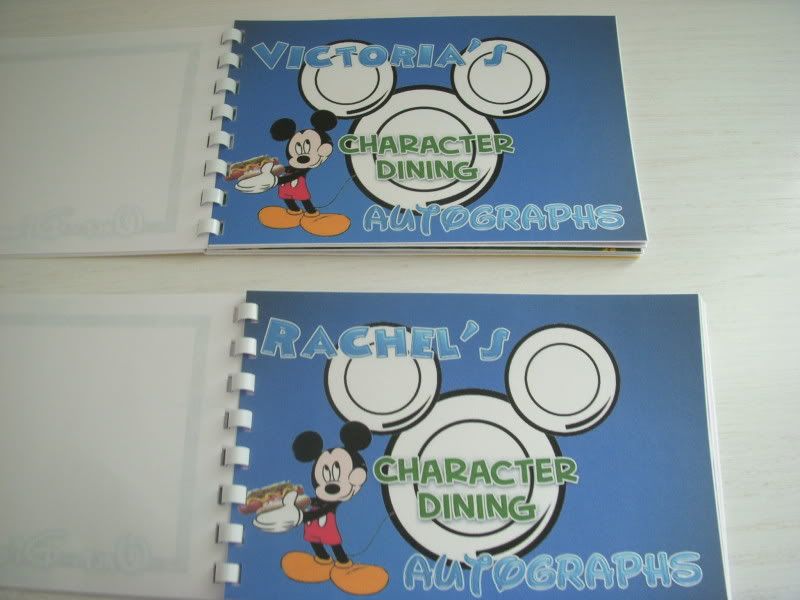 For the character meals, I made a page for each character at the meal.