My youngest 3 kiddos are on spring break this week so we decided to play all day today at Typhoon Lagoon.
We arrived just a few minutes after park opening. We grabbed our sticker for our mug and headed to Singapore Sal's for a small locker for our phones, wallets and cameras.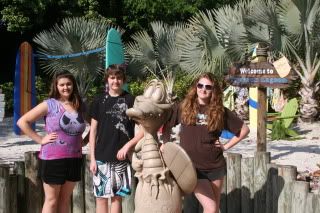 [B]First things first ~ a picture with Lagoona Gator[/B] (who is way cooler than BB's Ice Gator!)
The park was pretty much empty so we snagged some primo spots right by the wave pool. While the kids rode some waves, I got us settled.
We headed over to Crush n' Gusher and rode all 3 slides within 20 mins (Coconut Crusher wins hands down as our favorite) and then headed over to Gangplank Falls. After two trips around the Castaway Creek, the kids headed back to the wave pool and I took a seat at Let's Go Slurpin.
[B]Pina Colava![/B]
What is it about being around water and in the sun that makes you ravenous? By 1pm we were starving! So, after my drink, we headed to Leaning Palms for lunch. We shared chicken nuggets and fries, our traditional water park lunch.
After lunch, the kids wanted to head to the shark reef. This is clearly their favorite park of TL.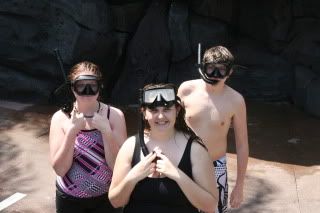 DDs and DS getting ready to cross the shark reef
After 4 or 5 trips across the reef, we stopped by to see our friend, Sharkus.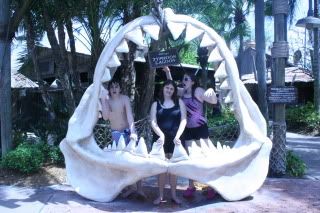 Sharkus Gigantus[B]
[/B]
While the kids headed back to the wave pool, I enjoyed some time laying in the sun. Everything about TL is relaxing. I think I nodded off for a bit.
I joined the kids in the wave pool for a little while. We went out to the ropes and rode the waves in. I prefer it out there where there arent so many people. Nothing's worse then taking a wave AND somebody's body part to the face!
After the wave pool, we went around and did the rest of the slides. There wasn't more than a 5 minute wait for anything.
We were all pretty beat by 4:15 so we hit the changing rooms before leaving the park. It was such a great day. The weather was beautiful, the crowds were super low and I loved spending time at the park pretending that, we too, were on vacation.