Where do I start? We got up on the 13th of February around 1:30 in the morning. I had already packed the truck the night before as we always do.
Tossing and turning and I couldn't get to sleep, pretty much got about two hours of rest before for leaving for the first 14-16hrs of our road trip.
We love driving to WDW and always have fun on the way. DW reads, kids play and do homework. This trip shouldn't be different right??? Well needless to say it rained the entire trip down. I couldn't see two feet in front of me until sunrise.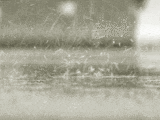 It was bad!!! I love to drive in all weather, but this was dangerous.
Well that was the first of my TR. Need to clean out the truck now. Just bought DW another "CUV" Political Correct Acronym. Back later for day two……
MJD